You guys, LEFT HANGING by my dearest friend Cindy Dorminy came out today!!!! It's a contemporary romance that will leave you smiling and basically wanting Theo to be a real person and marry him and have kids with him and stuff. Just saying.
I absolutely adored this book, the characters, and the story. I was rooting for Darla and Theo the entire time, that's how much I connected with the characters. It's a feel good novel and a perfect spring read. Enjoy!
You can get it here: Left Hanging on Amazon
Here's the blurb:
As a nurse and single mom, Darla Battle hides her loneliness behind a smile. But when she discovers that the new cute doctor everyone is talking about is her daughter's father, she knows she needs to keep her distance from the man who abandoned her and their child, Stella.
When Theo Edwards returns to Nashville to finish his medical training, he never expects to run into Darla, a girl he spent one night with seven years ago. For reasons he can't fathom, her attitude toward him is frosty, but he still hopes to ignite the spark they once felt.
Once Darla realizes Theo doesn't know he's Stella's father, she has no idea how to tell him the truth. And the longer she waits, the more difficult it becomes. When the situation spins out of control, can the two come together for the sake of their daughter? Or is forgiveness out of reach?
And a little something, something about the lovely author:
After several decades of writing medical research documents, Cindy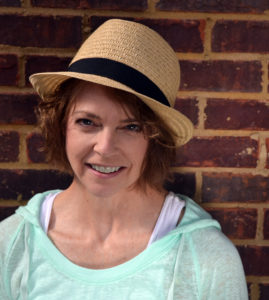 decided to switch gears and write stories where the chances of happy endings are 100% and the side effects include satisfied sighs, permanent smiles, and a chuckle or two.  She writes romance novels with a slice of humor that range from historical romance to southern fried romantic comedies. Her young adult debut novel, Tuned Into You (BookFish Books) was released in June 2016.

Cindy was born in Texas and raised in Georgia.  She received her Bachelor's Degree from Kennesaw State University and her Master's Degree from The University of Georgia.  Cindy enjoys gardening, reading, bodybuilding and a whole bunch of movies.  She can be overheard quoting lines from her favorite movies… a lot.  But her favorite pastime is spending time with Mark, her bass playing husband, Maddie Rose, the coolest girl on the planet, and fur child Daisy Mae.  She currently resides in Nashville, TN where live music can be heard everywhere, even at the grocery store.