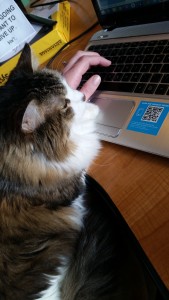 It's very important for an author to have a writing companion. They can help you in so many ways. For example, mine is my cat, Princess Buttercup.
She helps in a number of ways, including keeping my arm warm while I write. She's always there for every sentence and every word I type. No matter how hard I try to keep her away, she keeps coming back. She will not take no for an answer.
And that, my friends, is how you find a decent writing companion. You're welcome.