Well, I finished draft 7 of New Haven. Who knows how many drafts it will take until I'm satisfied. A billion? I'm becoming more open to handing my book out. I have a few copies floating out among my family. But I also don't want to get too carried away seeing as I would like to have it published one day and I don't want random copies floating around without my knowledge. Am I a paranoid person? Why, yes, yes I am. Thanks for asking.
Draft 3 of book 2 is underway. The title as of now is: New Haven: Revolutionaries. We'll see if it stays or if anyone else has a brilliant idea. Only two people besides me have read this book, with one other currently reading it. I'm nervous and excited to hear what people have to say!
I've had a nice support system along the way, which has been so helpful. I took a few of my closest advisers out to breakfast last Saturday to get some feedback. I loved hearing them talk about my book and learn who their favorite characters were and what scenes they love, etc. I have another group I'm talking with this Saturday, so I'm really excited to hear their thoughts and insight on my book. So far everything I've learned from them has been extremely helpful.
Honestly, I wasn't expecting this many people to like my book. I was just hoping my husband would find it okay so I could give it to my mom. And then it spiraled out of control from there. I'm just glad people are enjoying it like I have.
Here's a picture from the breakfast: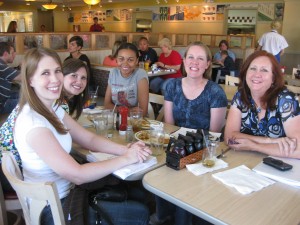 From left to right: My dear friend Casey (who has book 2 in her possession right now!), my dear friend Erin (and also most vocally pumped about my book!), my way cute and sweet niece Makenzie, me (you probably can't tell, but my neck is red and splotchy which always happens when I'm nervous or excited … or a lot of attention is on me), and then my awesome mom who has let me ramble on and on about my book and has had a smile and listened attentively the whole time! I love these ladies!!!
Also, might I point out that Casey thought my niece, my mom and I were crazy for getting soda (Sprite, Diet Coke, and Dr. Pepper) at 9 in the morning. Can you tell we're related?